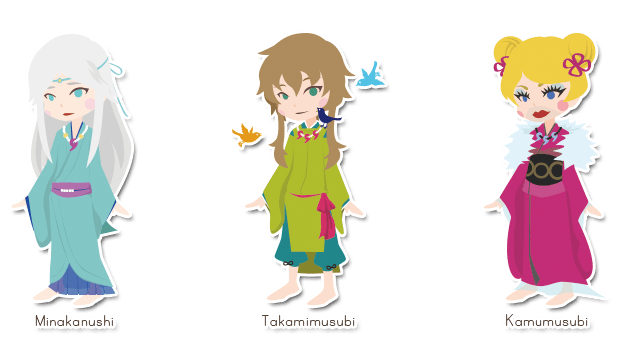 Prologue
The history of Japan starts from the era when the world hadn't been made yet and there were no living creatures or gods either.
The present world is divided into three worlds; the world of the gods, the world of humans, and the world of the dead. However, at that time they were all mixed and chaotic while everything was floating endlessly.
After a long time, when the sky and the land began to separate, the first god was born. He was Ameno-Minakanushi. Ameno was sort of the family name, and Minakanushi was his first name. He was the god who was born first and it means that he is the ultimate God...I suppose. But people didn't care. He didn't seem to have much of a presence. He was everywhere for a long time and couldn't find anything to do. Then, in the end he hid himself.
Takami-Musubi was born after him. He had long name and we usually call him Takagi. He was graceful and had healing powers. There were always a lot of birds around him. It is easy to imagine that he lived in a forest rather than in the sky. He couldn't find anything to do either and hid himself.
Kamu-Musubi was born next. He looked like a man but he thought and acted like a woman. So to speak he was a gay. He liked love stories and good-looking men. He was proud of his name because it had the meaning of a matchmaker. At that time he also went out of the sight.
After that, Umashiakabi-Hikodi and Amenoto-Kotachi were born and concealed themselves as well.
These five gods were called Kotoamatu, which means the top five gods.
They didn't have actual sex like human. They were not men or women either. They are kind of epicene. However Kamu-Musubi often insisted that he was similar to women rather than gay people.
There were lots of gods who were born at that time, but you don't have to remember all of them, because only first three gods would appear again in the sequels.
After those five gods, other two gods who didn't have sex and five couples of gods who had sex were born. We call them Kamino-Nanayo, which means the great seven gods.
The youngest couple among them was Izanagi and Izanami. You might know their name. They are the gods who delivered the islands of Japan.
The more the number of gods increased, the more vibrant the world became. They started to call the world of the gods the Celestial plain, the world of human Middle Earth, and the world of dead Hades.
When the Celestial plain began to flourish, Middle Earth was still bleak and chaotic. There was the sea, but there were no islands nor humans.
Minakanushi felt sad and had a meeting with Takagi and Kamumusubi to discuss how to make Middle Earth vibrant. They decided to tell Izanagi and Izanami to go there and make a country.
Minakanushi immediately summoned Izanagi and Izanami and told them what he had decided. He gave Izanagi a gorgeous sword decorated with a lot of jems. It was Celestial Sword. It had a miracle power which could harden the sea, and with this power they would be able to make some small islands.
When Izanagi got the sword, he looked a little bit confused and asked Minakanushi.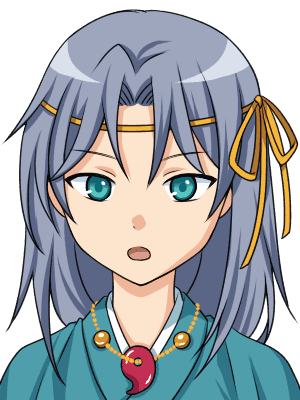 Izanagi
I'm not sure what a country is like...is it...kind of the land with gods, kings and people?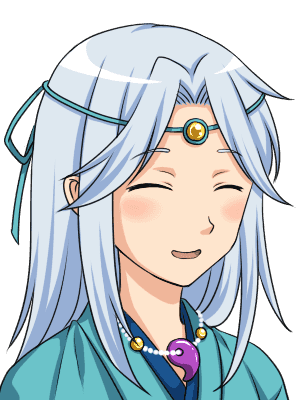 Minakanushi
Yes, right. Something like that. You can come back home whenever you want.
Minakanushi said without thinking deeply, but he didn't know exactly what a country is, because there were no islands nor humans yet.
And then Japan was made out of a gods' whim.
You can purchase "THE JAPANESE MYTHOLOGY KOJIKI" from U-NEXT.
---
Book recommended
Japan's oldest surviving narrative, the eighth-century Kojiki, chronicles the mythical origins of its islands and their ruling dynasty through a diverse array of genealogies, tales, and songs that have helped to shape the modern nation's views of its ancient past.
An earlier translation by Basil Hall Chamberlain published in 1882 is now out of print. This translation relates the translated text to modern scholarship and includes the most recent commentaries. Originally published in 1969.
The first English translation and examination of secret Japanese writings dating from the paleolithic to classical eras.Examines four suppressed and secret texts to discover the deeper truths beneath Japanese mythology.