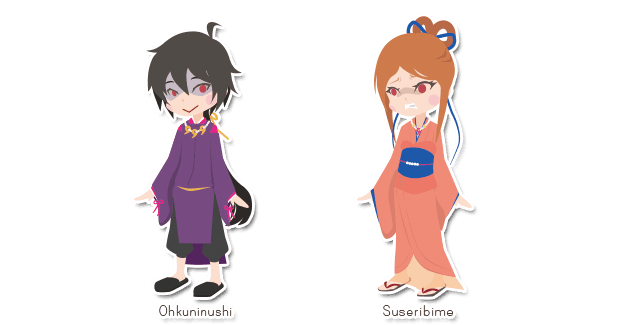 Casanova
Ohkuninushi began to rule the country as he was told by Susanoh. He became the first emperor of Japan. Since he was quite handsome and young, it was no wonder why he became super super popular among women. Moreover he was a womanizer
Yakami whom he picked up from Inaba was his favourite lady out of all his wives.
Of course the legal wife Suseri didn't fancy her. Suseri often said nasty things to her.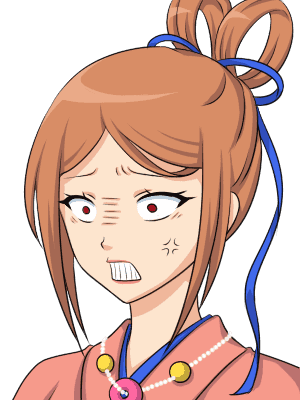 Suseri
What a stuck-up! You're overrating your beauty, aren't you?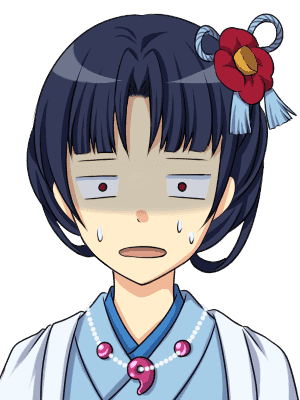 Yakami
Even though they were polygamous, Suseri couldn't help feeling jealous when she saw they were making out.
Yakami soon got pregnant and delivered a baby, but she left him under a tree and went to her hometown Izumo because she was frightened of Suseri.
Suseri was a bit relieved as she could make her archenemy leave.
However she still had a lot of problems. There were four more concubines who lived there, and Ohkuninushi rarely stayed at home.
Actually he had gone on a trip to see every beautiful lady in the country.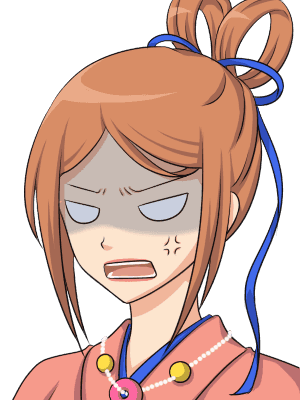 Suseri
Shit! I have to admit I like a smooth operator, but doesn't he know the word 'limit'?

Meanwhile, Ohkuninushi came over northeastern Japan to see Princess Nunakawa. People said that she was so beautiful. Of course there were neither cars nor airplanes. He walked by himself from southwestern Japan to northeastern Japan just to see a beauty. What a strong obsession he had!
When he eventually arrived at Nunakawa's house, he called her. However he was totally ignored by her. It was already the dawn. He couldn't give her up, after surviving many difficulties along the journey. He tried to please her with poem-like words.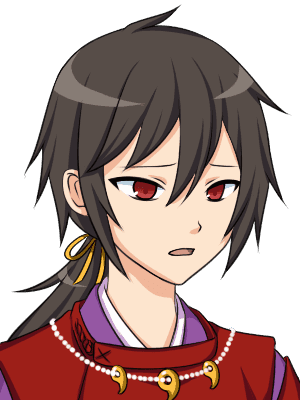 Ohkuninushi
Hey, Miss Nunakawa. You hear me, can't you?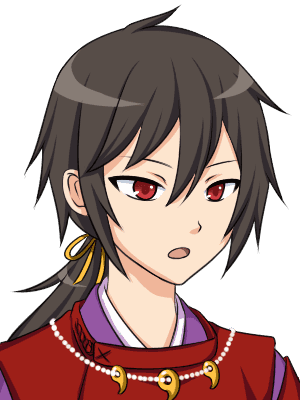 Ohkuninushi
I've traveled all over this country to find the best lady for me, but I couldn't meet anyone so far. Then I heard about you. They said you are so beautiful and intelligent. I couldn't stand still and came over here.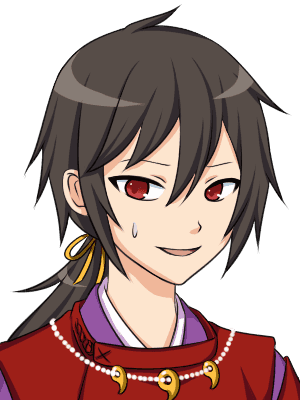 Ohkuninushi
I haven't unpacked my baggage. I'm just waiting for you to open the door. Do you think I am an idiot?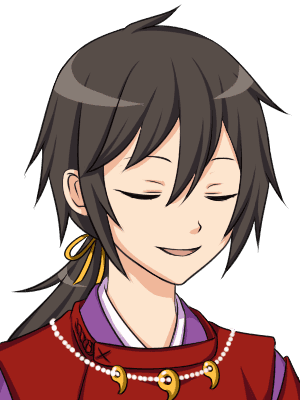 Ohkuninushi
Well...can you hear that?
Wild birds in the mountain, pheasants in the field, and the cocks in your garden are singing to tell us that the morning has come.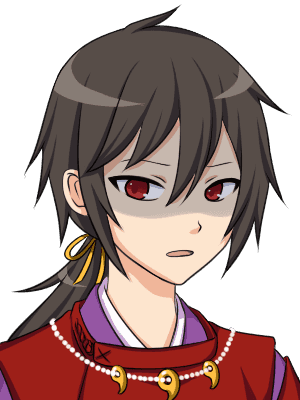 Ohkuninushi
They all made me depressed.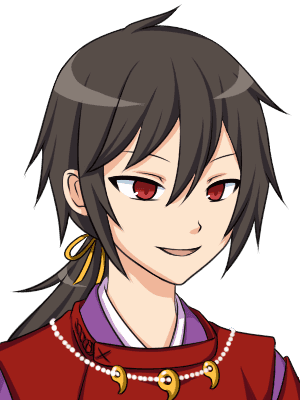 Ohkuninushi
Can I kill all of them? If I would do so, could I stop the sun rising?
Eventually he heard Nunakawa chuckled a little. She replied from the other side of the door. Her words sounded like a poem too.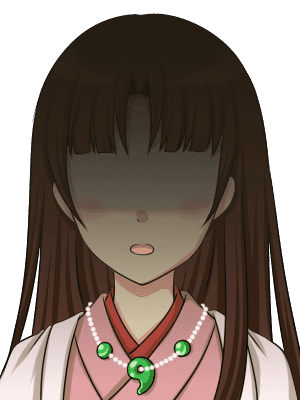 Nunakawa
Ohkuninushi, I am as vulnerable as waterweeds. But I like you at the back of my mind just as the birds like singing at the beach. So please don't kill them.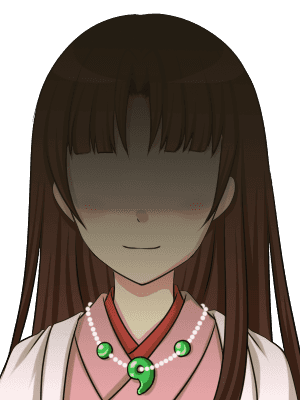 Nunakawa
After the sun goes down, night will come again. Tonight, you'll see my sunny smile, and I'll embrace you with my snow-white arms and bosoms.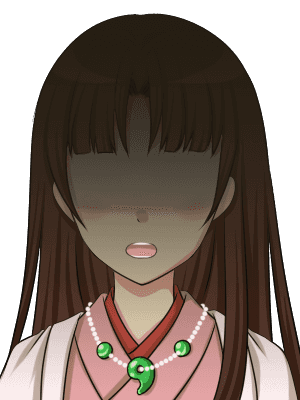 Nunakawa
We can do whatever we want at night. We can touch our hands and rub our legs up each other.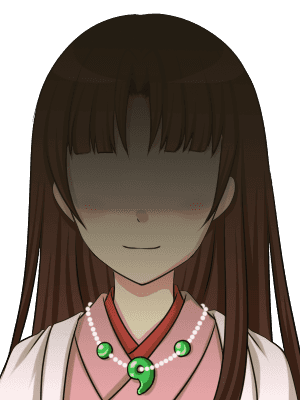 Nunakawa
So please don't haste too much.
Apparently, she said she was available at the night. Ohkuninushi almost jumped with a joy and went to his inn.
Thus, Ohkuninushi saw all the beautiful ladies in Japan thoroughly.

Few months later, when he went home after ages, he found Suseri waiting for him with an incredibly furious expression.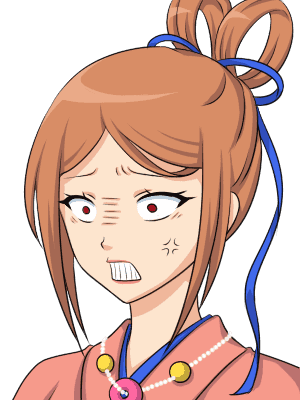 Suseri
Hey, Darling! What took you so long? Didn't you say that you wanted to rule this country? Ah?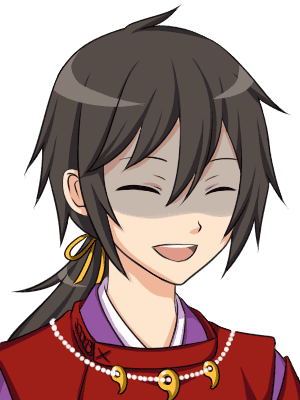 Ohkuninushi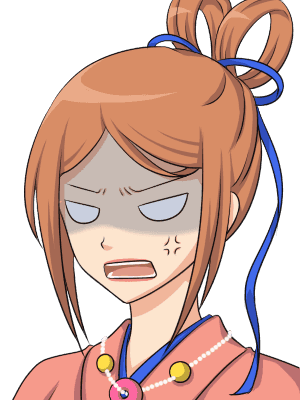 Suseri
You've been just flirting with girls, haven't you!?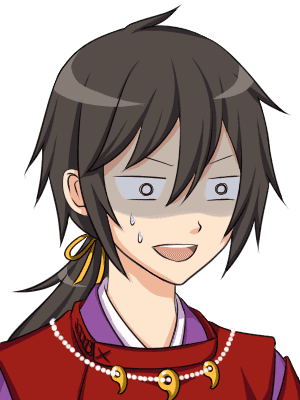 Ohkuninushi
Her voice was quite frightening. He remembered she was the daughter of the great Susanoh.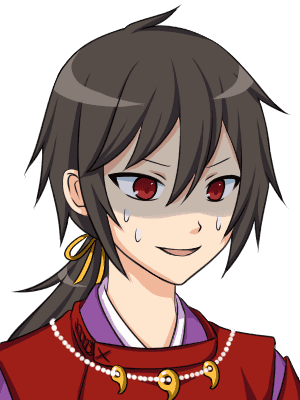 Ohkuninushi
Well...you know...It's...It's my business. If I had a concubine in each area, I could rule the country more smoothly and....or....perhaps....It is necessary to flirt....and...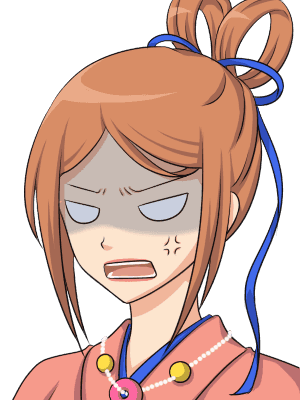 Suseri
Stop it! I'll never listen such a crap!!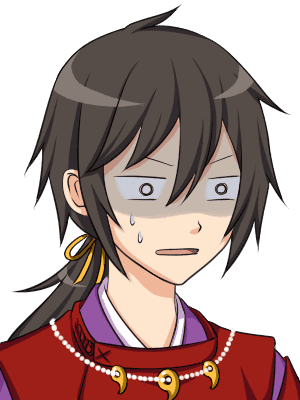 Ohkuninushi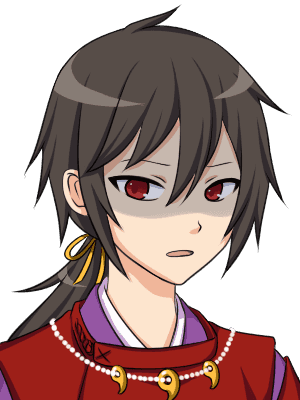 Ohkuninushi
It isn't good...I've wanted to make a kind of harem in Izumo. But I must be better to choose another place. How about Yamato...?
Ohkuninushi started preparing for his harem secretly. His plan seemed to be working out.

Just when he climbed onto his horse to leave to Yamato, he was called by Suseri.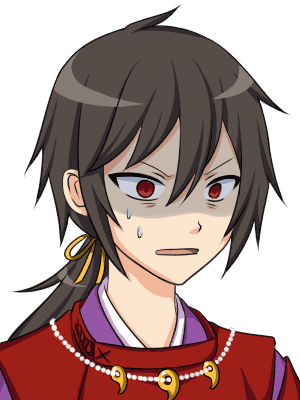 Ohkuninushi
What the hell!! She eventually found it. Shit! I've prepared this plan bit by bit.
However she didn't look powerful as usual. She was sobbing.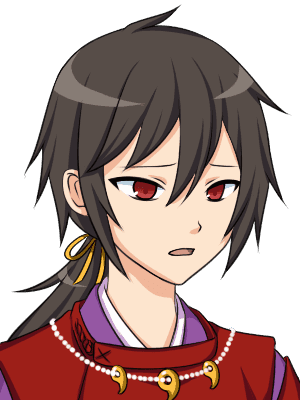 Ohkuninushi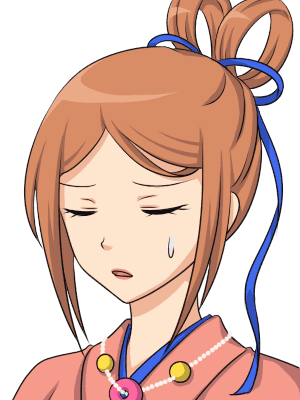 Suseri
Don't call me honey. Well...you may as well go to another honey.
She said with her head's down so as Ohkuninushi couldn't see her tears. Even though he was a shallow womanizer, he was baffled by his first wife's crying. He scratched his head, and tried to soothe her in a poetic way.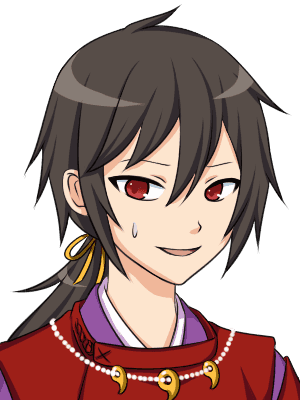 Ohkuninushi
Err...well...in fact, I had a plan to go out with my best attire today. I wondered which is the best.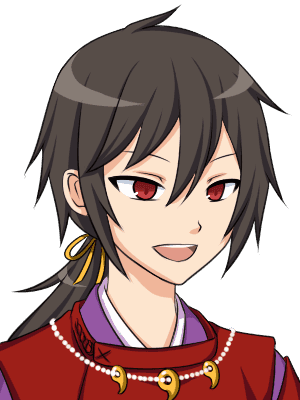 Ohkuninushi
At first I tried the black one and checked myself in the mirror like the bird looks into a paddle of water. But it didn't suit me and I put it off.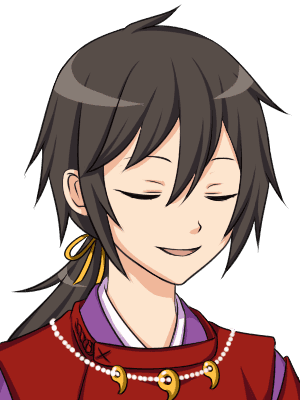 Ohkuninushi
After this, I put on the bright blue one like a kingfisher. But it didn't work either, so I put it off again.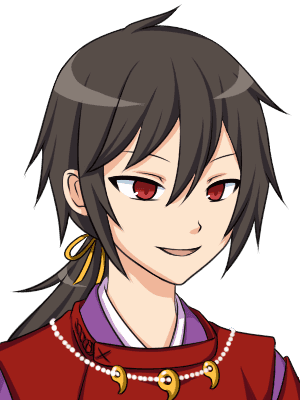 Ohkuninushi
And at last, I tried this red attire like the sunset. It seems to go well. Don't you think so?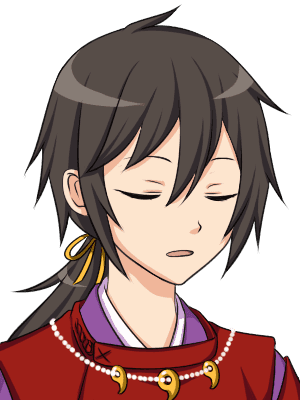 Ohkuninushi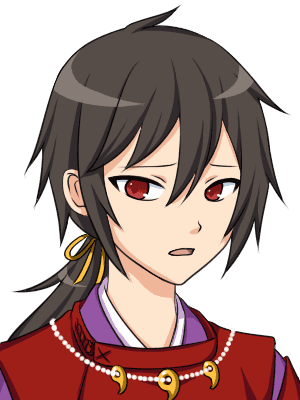 Ohkuninushi
When I go over somewhere like a bird, you will cry with your head's down like a silver grass. Your sigh will become a thick fog and make me lose my way....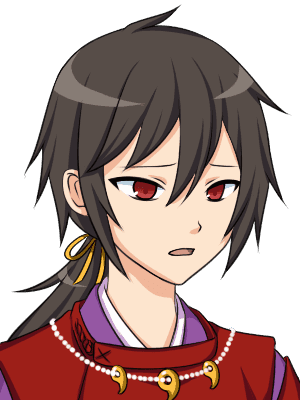 Ohkuninushi
Because I really love you.
She sniffled.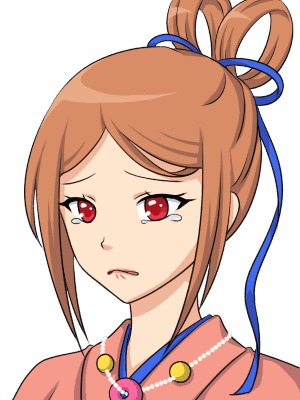 Suseri
....Thank you, Ohkuninushi.......well....wait a minute.
She said so and went back to the house. He couldn't find what she was thinking. He was just waiting for her on the horse. Then she appeared again with a tray and a cup of Japanese sake. He noticed her dress was a bit looser than a while ago.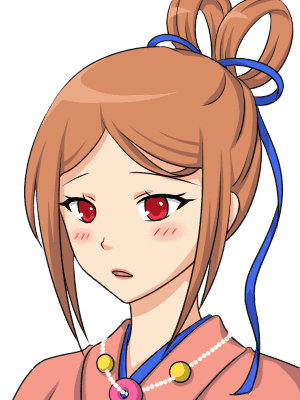 Suseri
Here you are, Darling. It's the one for the road.
She touched his leg on the horse and offered the cup of sake. Ohkuninushi could see through her bosoms from above clearly. She made a poem in return.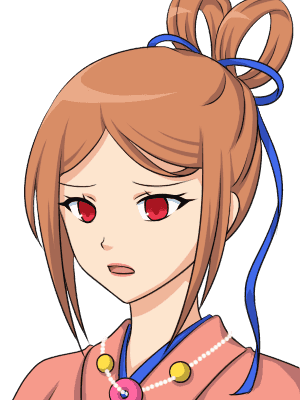 Suseri
Darling...You've been to many islands, mountains and capes, and have got married with many wives, because you are a man.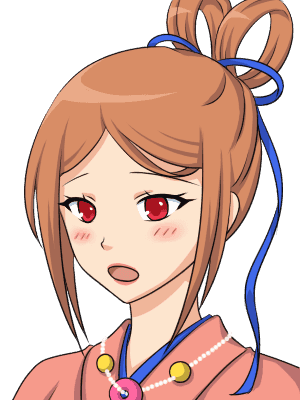 Suseri
But I love only you, because I am a woman. You are my only beloved husband.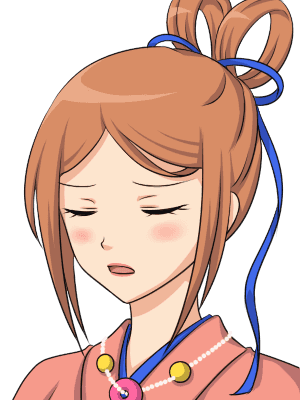 Suseri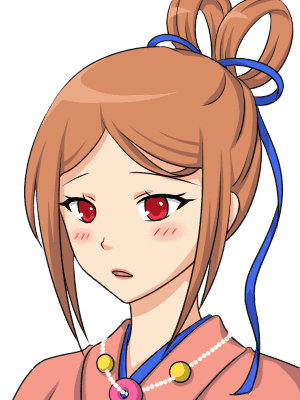 Suseri
I wish I could be covered with the cotton linens in the cozy silky room with you. I wish we could touch our hands and rub our legs up each other.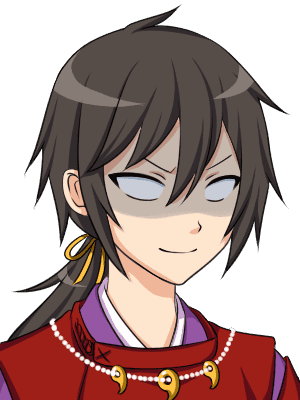 Ohkuninushi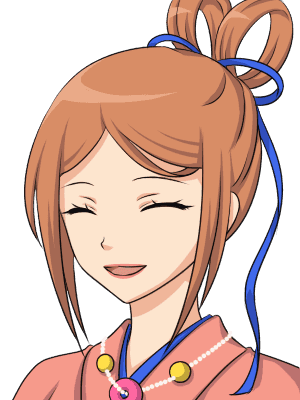 Suseri
How about another cup of sake?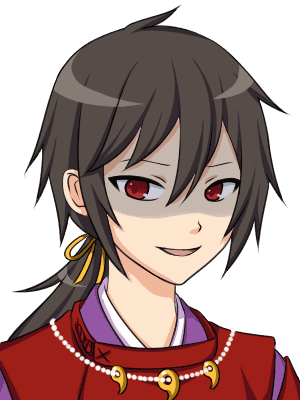 Ohkuninushi
........................Err.....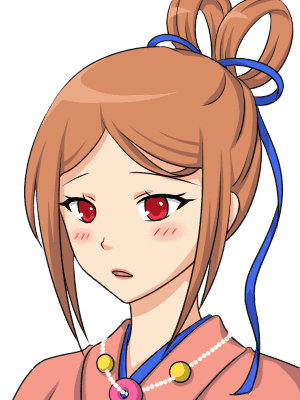 Suseri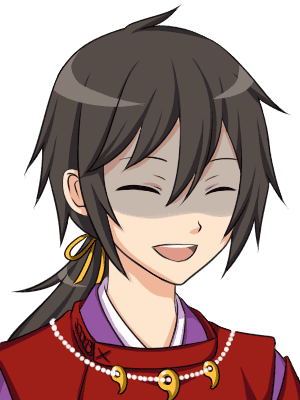 Ohkuninushi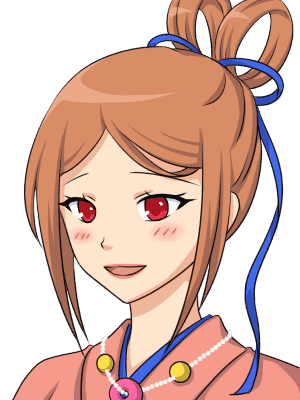 Suseri
Oh, really? So I'll see you in the bedroom. Today I've just washed the sheets and blankets!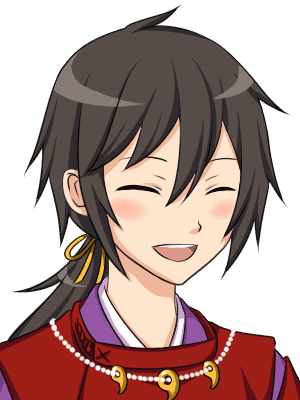 Ohkuninushi
Ohkuninushi jumped off the horse immediately and hugged Suseri. Then they made sure that they really loved each other.
Though he was essentially a shallow womanizer, he stayed in Izumo after this day and they got along well for a long time.
Since Ohkuninushi was an extraordinary Casanova, he was called the god of Yachihoko, which meant eight thousand pikes. (I don't want to explain more, so please just imagine the real meaning from it.)
Legend has it that he had one hundred and eighty kids all over Japan in the end.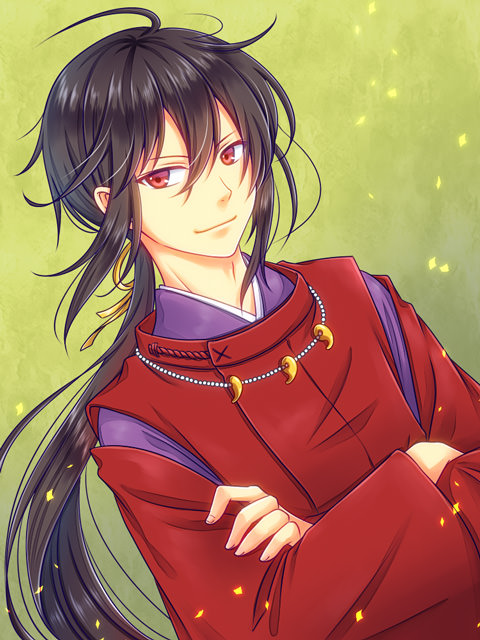 You can purchase "THE JAPANESE MYTHOLOGY KOJIKI" from U-NEXT.
---
Book recommended
Japan's oldest surviving narrative, the eighth-century Kojiki, chronicles the mythical origins of its islands and their ruling dynasty through a diverse array of genealogies, tales, and songs that have helped to shape the modern nation's views of its ancient past.
An earlier translation by Basil Hall Chamberlain published in 1882 is now out of print. This translation relates the translated text to modern scholarship and includes the most recent commentaries. Originally published in 1969.
The first English translation and examination of secret Japanese writings dating from the paleolithic to classical eras.Examines four suppressed and secret texts to discover the deeper truths beneath Japanese mythology.