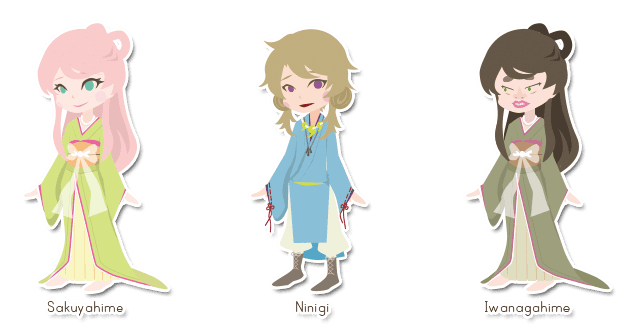 Flowery Princess
Ninigi had grown up very well while making the country in the palace in Hyuga.
One day the usher Sarutabiko wanted to go back to his hometown, so Ninigi told Uzume to accompany him until he got there.
At the same time Ninigi gave a new name to Uzume, because he really appreciated her brave talking to Sarutabiko on the Ameno bridge.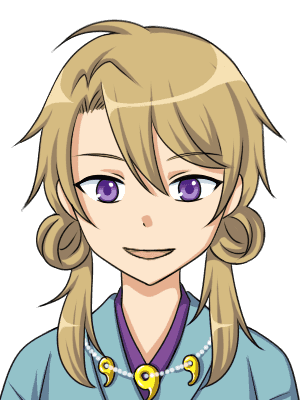 Ninigi
Uzume, from now on we'll call you Sarume. I chose it after you talking to Sarutabiko. I want everyone to remember your braveness.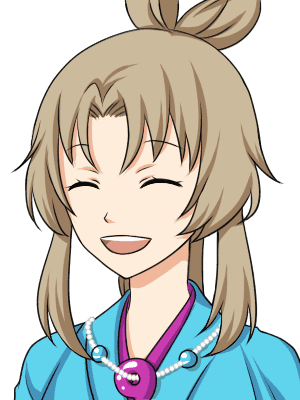 Sarume
Wow! Thank you! Uzume....no Sarume is honored.
Getting a name from someone also meant getting a power of someone. Now that she got a name from Sarutabiko, it meant she had his masculine power in her feminine frail body.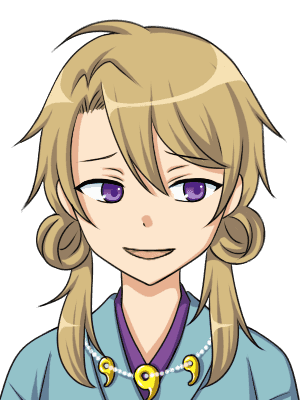 Ninigi
In a sense, she may be the strongest person in the world...
Ninigi thought.
Several weeks later, they heard a gossip that Sarume and Sarutabiko married. Everyone was talking about it at that time. However, Sarume came back alone as if nothing had happened. Ninigi dared to ask her about Sarutabiko.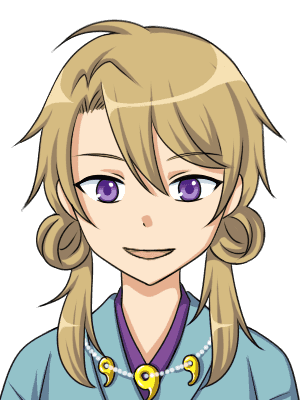 Ninigi
Sarume. Did Sarutabiko arrive at his hometown?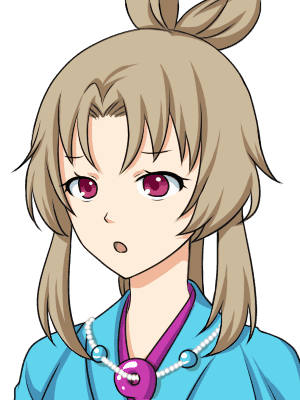 Sarume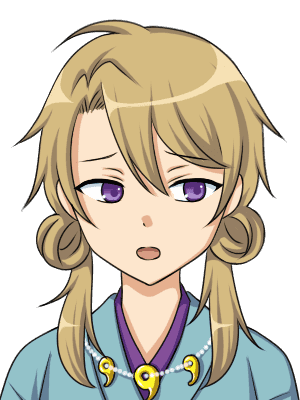 Ninigi
Oh? Didn't you go there with him?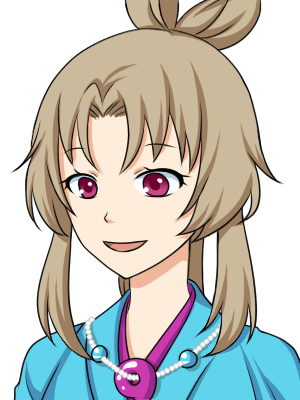 Sarume
I did half way through....but he said he wanted to do fishing. So I was just waiting...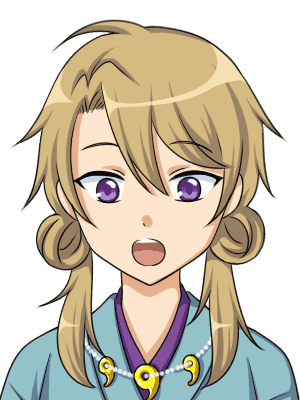 Ninigi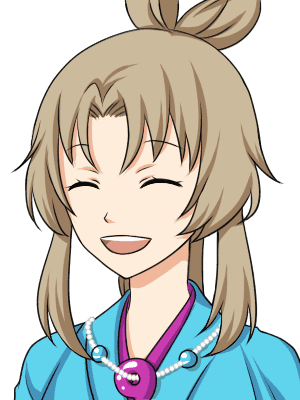 Sarume
Yes...but in the middle of fishing, his hand was bitten by a shell and he didn't come back from the sea...so I gave up and came home alone.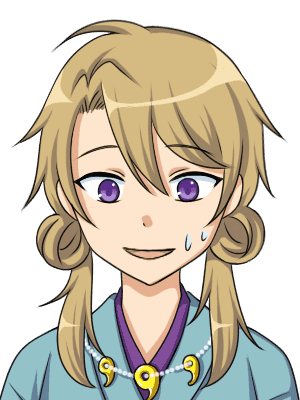 Ninigi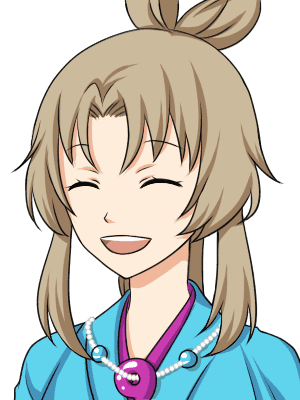 Sarume
Sarume giggled.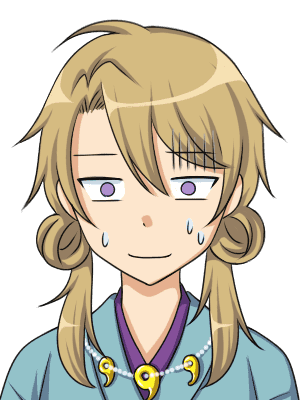 Ninigi
No one knows what happened to Sarutabiko actually. However, he is now enshrined at Sarutabiko shrine which is located near Ise, and the priests of this shrine are his offsprings. So I think he survived.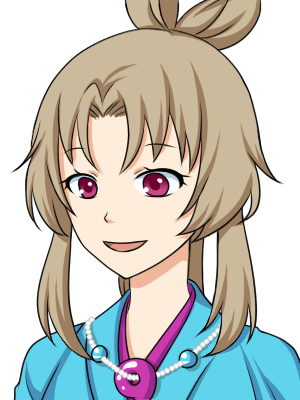 Sarume
On my way home, I asked all the creatures in the sea near Ise to support you, Ninigi. I really want to help you.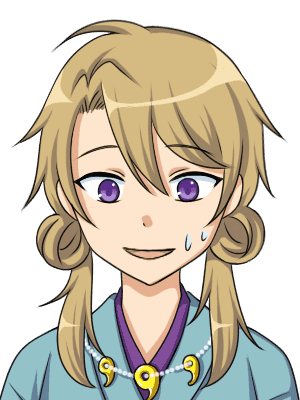 Ninigi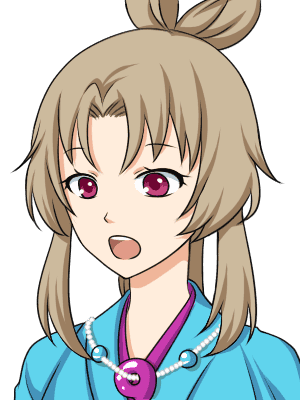 Sarume
Every big fish and every small fish willingly replied that they would help the Crown Prince. However, sea cucumber didn't!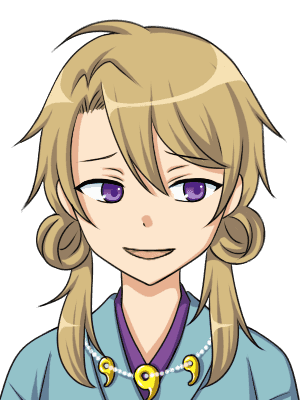 Ninigi
Yes...that is because they are sea cucumbers...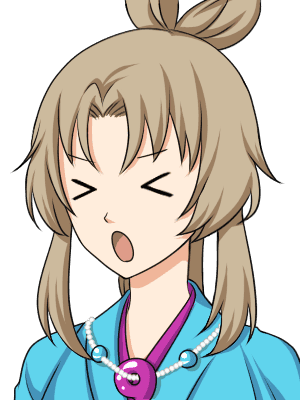 Sarume
Then I said, 'If you don't agree, I'll tear your mouths!!' and did so.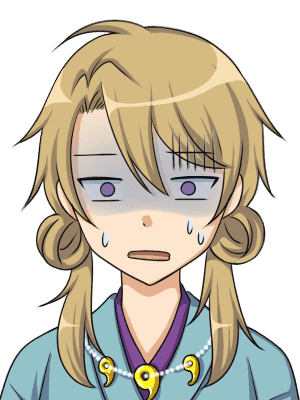 Ninigi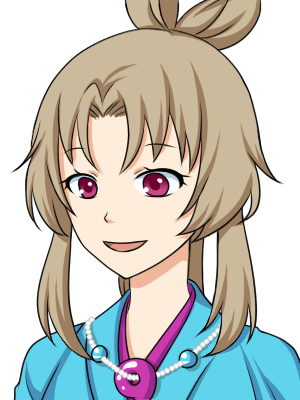 Sarume
I think every creature in the sea will support you now, Ninigi. No need to worry.
Sarume smiled.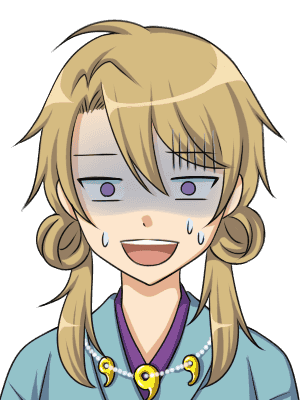 Ninigi
This unreasonable episode is the reason why mouths of sea cucumbers are still torn.
Thus no one could ask Sarume about her relationship with Sarutabiko.

One day Ninigi went for a walk to Kasasa beach. It took for ever to have his day off.
When he walked vaguely, he found a girl on the hill. He was gravitated like a butterfly to a flower and talked to her.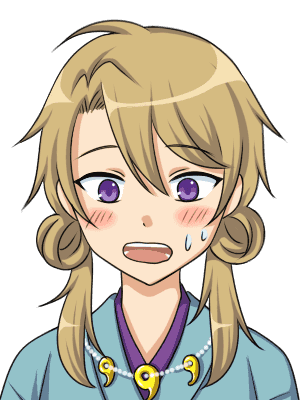 Ninigi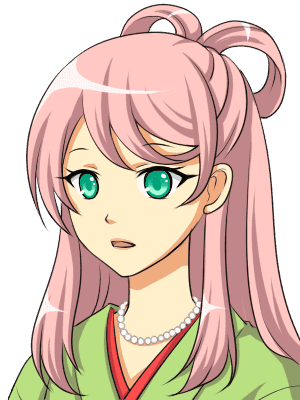 Konohana-sakuya
She turned around. Ninigi felt as if time stopped.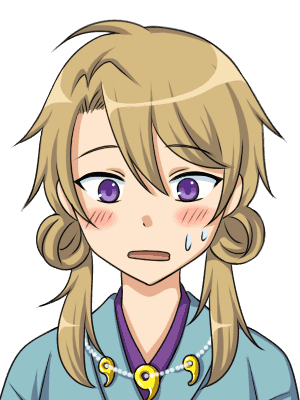 Ninigi
No one would be more flowery than her...
As he had been surrounded by fierce goddesses like Amaterasu, Chizi, and Uzume since he was a little boy, he was quite surprised at seeing this lovely girl.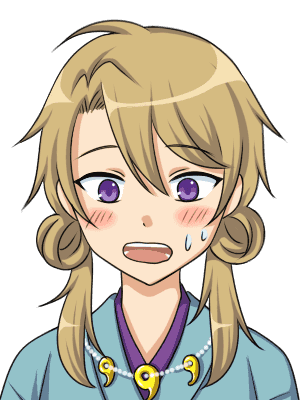 Ninigi
Err....I've just found you on this hill and.....yeah..I'm Ninigi. What's your name?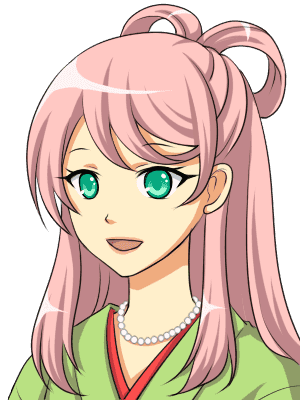 Konohana-sakuya
Konohana-sakuya meant 'This flower will bloom.' in Japanese.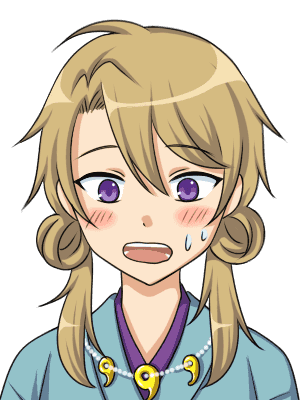 Ninigi
Wao! Your name is also lovely! Oh! I'm panicking now. You're too lovely.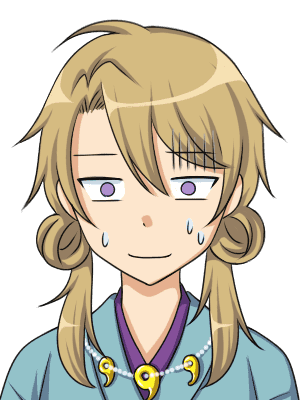 Ninigi
Oh...I have to say something....I heard that both Susanoh and Ohkuninushi married with the girls with whom they fell in love at their first sights, so I would do as well.............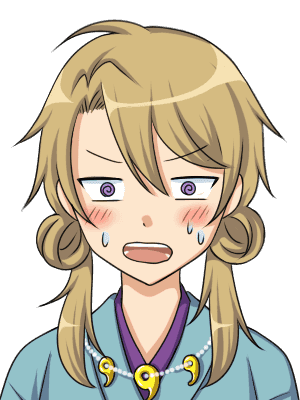 Ninigi
But I don't know what to say.....Oh, god. There is a long period of silence...I have to say something...something special....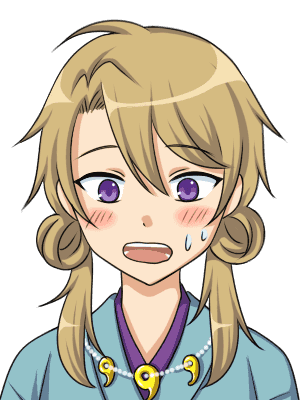 Ninigi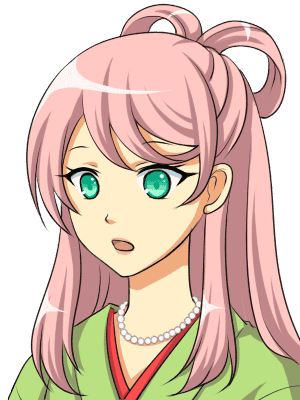 Konohana-sakuya
Ninigi bowed and offered his right hand. Then he said exactly what he was thinking.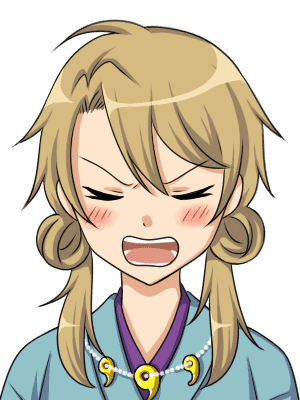 Ninigi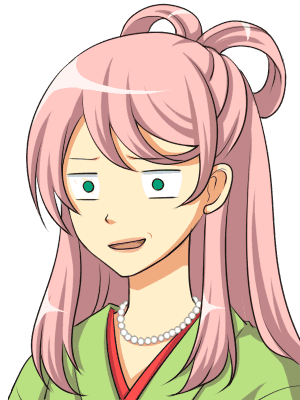 Konohana-sakuya
..............................................What?
He was perplexed when he heard her cold voice.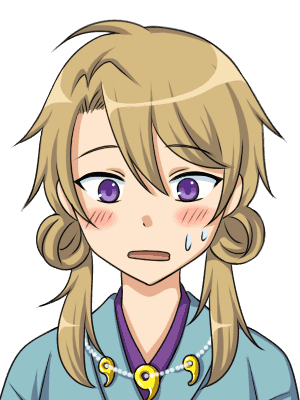 Ninigi
Oh....Did I say something wrong?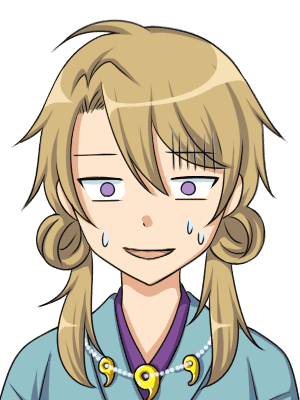 Ninigi
Or rather, what did I say to her?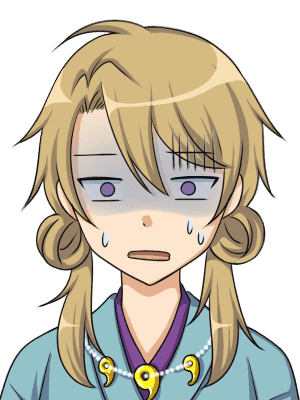 Ninigi
As he remembered his words, he went pale at once.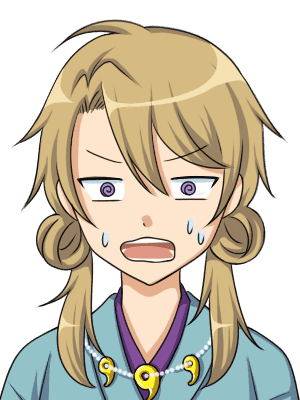 Ninigi
No! No! I didn't mean...!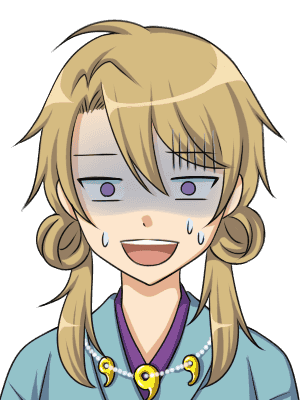 Ninigi
Now that he drooped, she learned he didn't have a bad intention. She smiled.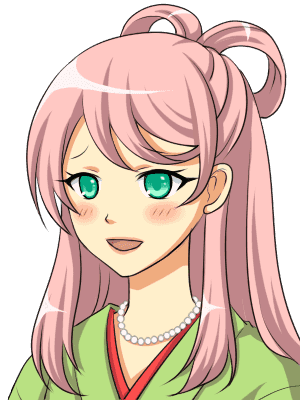 Konohana-sakuya
Well...sorry. I have to ask my father. I can't answer for him.
He didn't expect such an answer.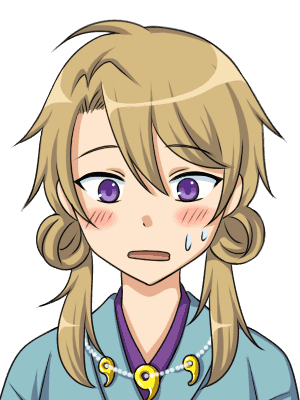 Ninigi
Really? Are you going to ask your father? And who is your father?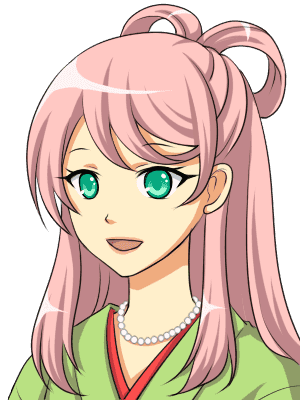 Konohana-sakuya
Ohyamatumi. He is the god of mountains. Where did you come from?
Ohyamatumi was one of the kids of Izanagi and Izanami. Ninigi felt a strong bond between them.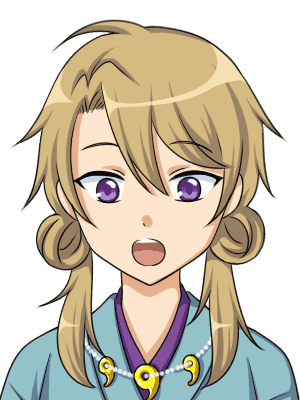 Ninigi
What a coincidence! I came from the palace in Hyuga. I'm the grandson of Amaterasu.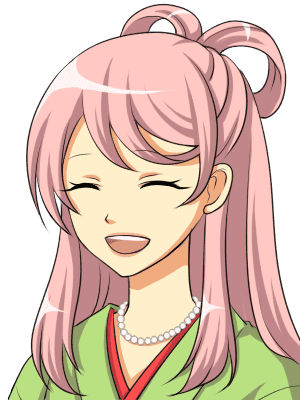 Konohana-sakuya
Wow! Are you really the grandson of the Majesty?
My father will be very pleased to hear that. In fact I have a sister. Dad may marry her off too. Can I go back home first?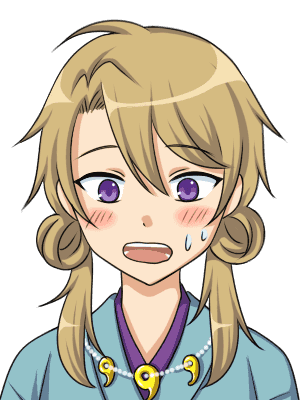 Ninigi
Your sister? ....OK. I'm waiting for you at my palace.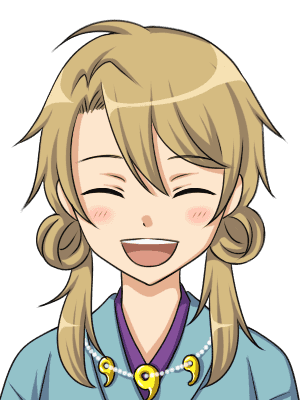 Ninigi
Yay!! Her sister must be incredibly beautiful too!! I really got excited!! I'm very glad to be born in such a posh family!! Thank you, Madam Ama!
At that time they said good bye and Ninigi came back home with joy.

A few days later....
Konohana-sakuya visited his palace as she had promised. However her sister didn't. Instead of the sister, a servant came with her.
Though Ninigi knew that it was quite rude to give any remarks on one's appearance, he couldn't help thinking the servant was terribly ugly.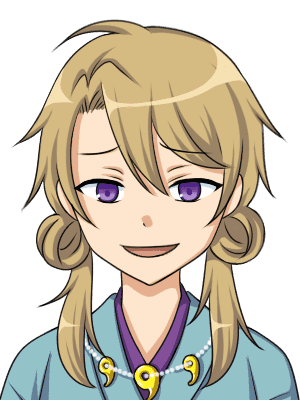 Ninigi
It may be because she is now next to Konohana-sakuya, but she is so ugly that I nearly bursted out laughing.
Ninigi giggled slightly.
Konohana-sakuya came in front of Ninigi and bowed politely. Her move was extremely graceful.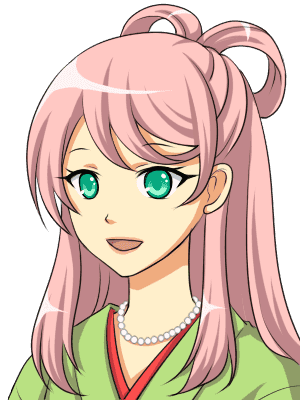 Konohana-sakuya
Mr.Ninigi, my father allows me to marry you. As I said I'm Konohana-sakuya and....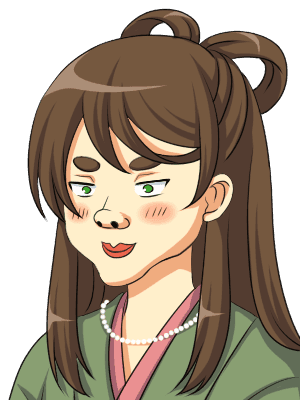 Iwanaga
Ninigi's smile froze.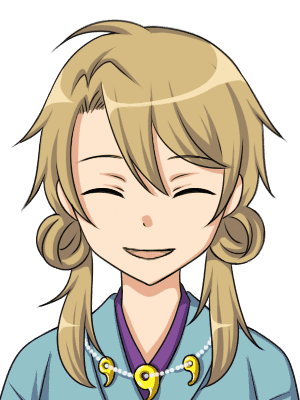 Ninigi
....................................................What?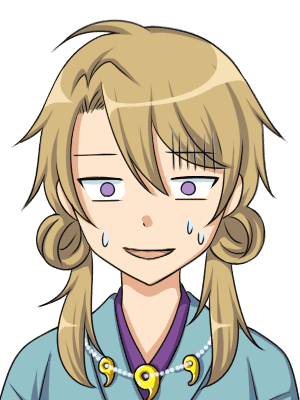 Ninigi
Wait...Give me a moment. Who is your sister?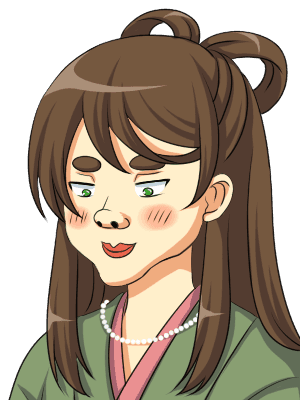 Iwanaga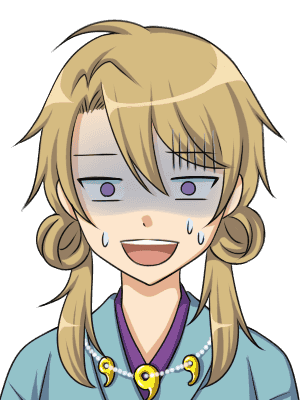 Ninigi
What the hell! Aren't you her servant?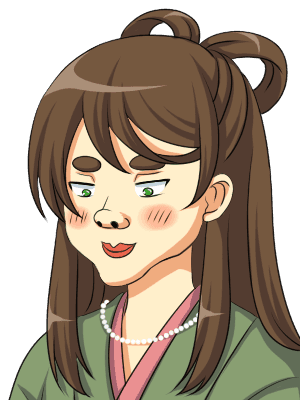 Iwanaga
..............................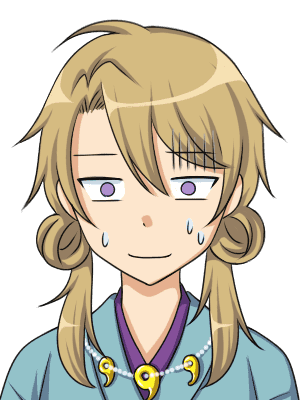 Ninigi
..............................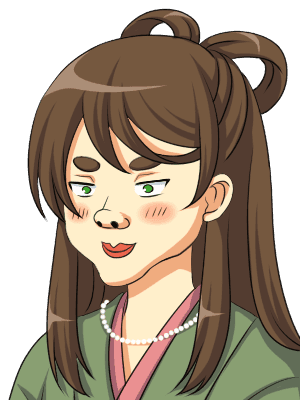 Iwanaga
..............................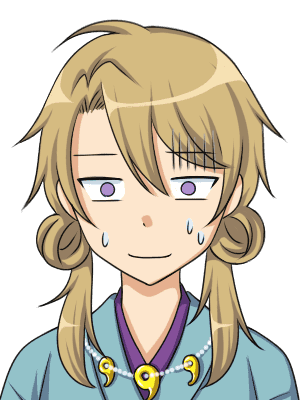 Ninigi
..............................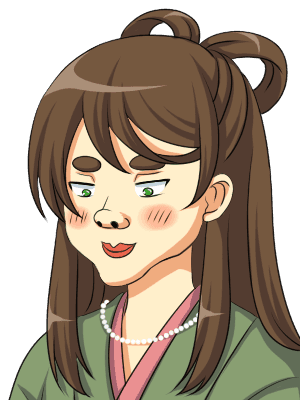 Iwanaga
..............................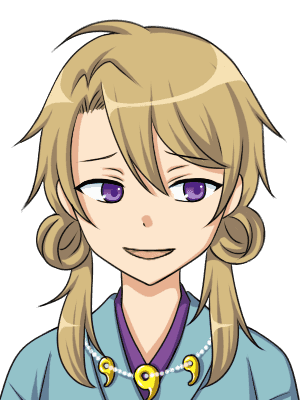 Ninigi
..................................................Well...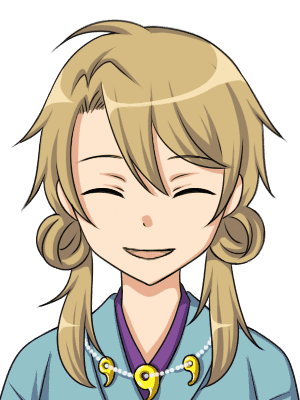 Ninigi
Sorry. Would you mind going back to your home, lady?
I have to say I don't like ugly women.
He sent her off politely.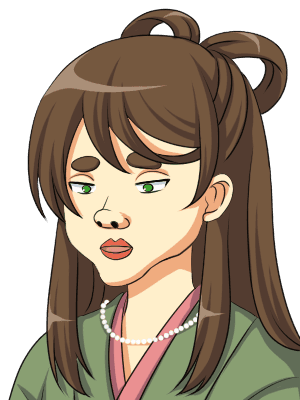 Iwanaga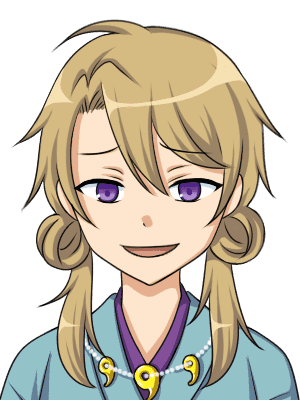 Ninigi
Err..I don't like ugly women. It's not my cup of tea. You are ugly, aren't you?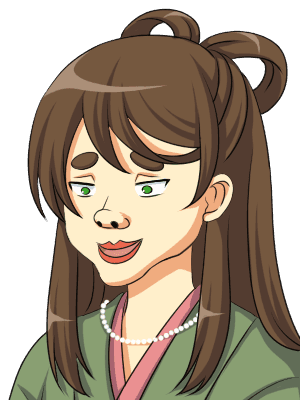 Iwanaga
But it's all for you, Mr.Ninigi.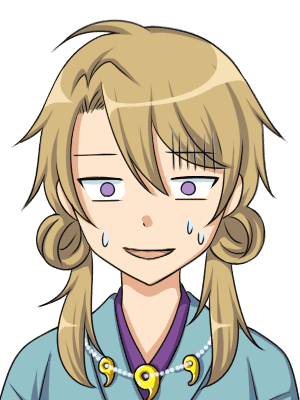 Ninigi
Well well.....If it is really for me, the ugly woman is out of question. I'm really sorry. I can't stand it.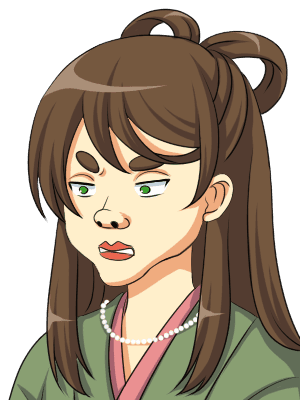 Iwanaga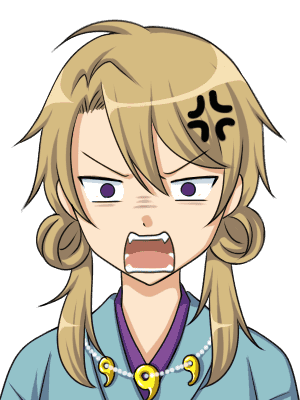 Ninigi
Your ugliness is out of this world. You're the ultimate ugly lady!!
Iwanaga went crimson while listening his verbal abuse.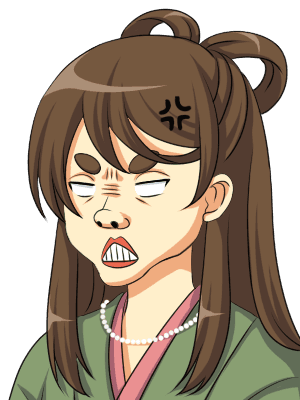 Iwanaga
Don't be ridiculous! You just said ugly, ugly, ugly, ugly.....It's enough!! It was all for you!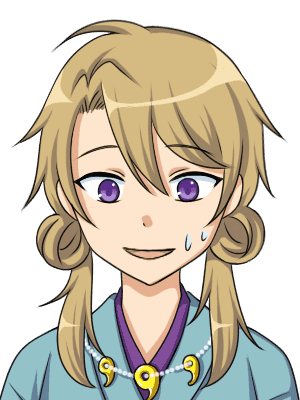 Ninigi
Oh...the ugly woman's hit the roof.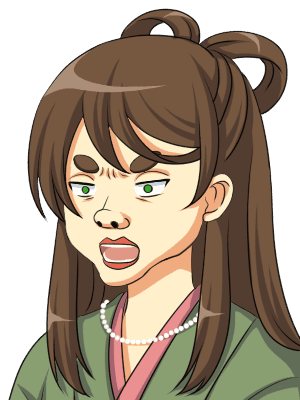 Iwanaga
Stop it! Konohana-sakuya will give you prosperity like flowers, but at the same time all flowers can't avoid to die! You'll also die in spite of you're the son of gods! Your son, your grandson, and all of your offspring will die too.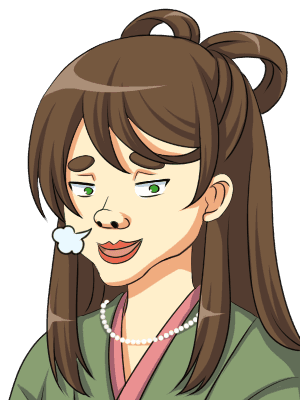 Iwanaga
I have a power to protect everything forever like a rock! Look at you! Idiot! It's too late to apologise!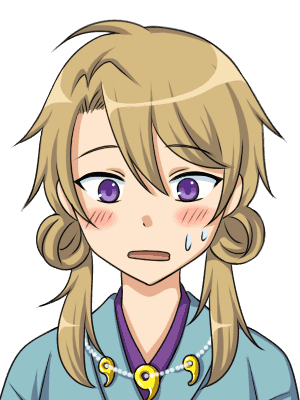 Ninigi
What!? Do you have such a secret?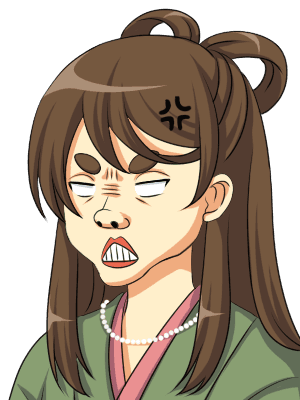 Iwanaga
I said it's too late! I'll go home!! I'm going home right now!!
After Iwanaga said what she wanted to say, she had gone out of the palace. Ninigi was wondering a bit, but he didn't follow her.
Thus the lifetime of Japanese royal family was limited, even though they were the offspring of gods in the Celestial Plain.
You can purchase "THE JAPANESE MYTHOLOGY KOJIKI" from U-NEXT.
---
Book recommended
Japan's oldest surviving narrative, the eighth-century Kojiki, chronicles the mythical origins of its islands and their ruling dynasty through a diverse array of genealogies, tales, and songs that have helped to shape the modern nation's views of its ancient past.
An earlier translation by Basil Hall Chamberlain published in 1882 is now out of print. This translation relates the translated text to modern scholarship and includes the most recent commentaries. Originally published in 1969.
The first English translation and examination of secret Japanese writings dating from the paleolithic to classical eras.Examines four suppressed and secret texts to discover the deeper truths beneath Japanese mythology.