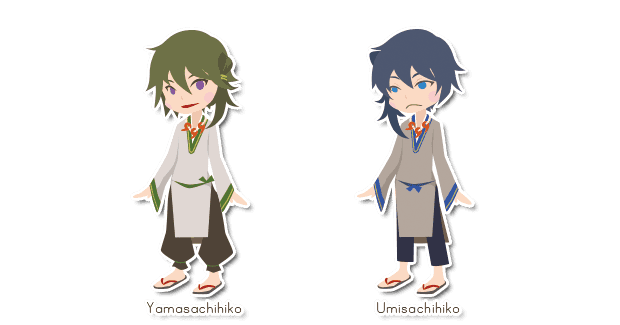 Umi-sachihiko's Bad Luck
After Yama-sachihiko started living in the undersea palace with Toyotama, he enjoyed his life.
He really enjoyed and almost lost track of time.
He enjoyed so much that everyone was surprised.
He really really enjoyed and got carried away.
When he came back to himself, three years had already passed.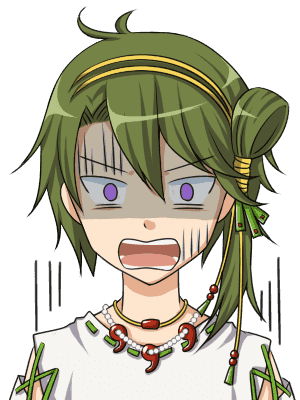 Yama-sachihiko
Ahhhhhhhhhhhhhhhhhhhhhhh!!
As Yama-sachihiko screamed abruptly, Toyotama was frightened.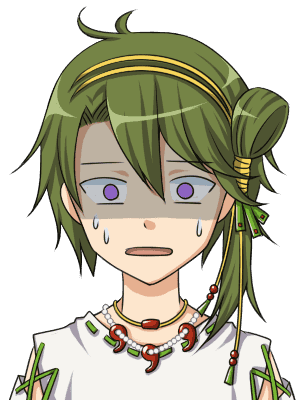 Yama-sachihiko
Though he usually looked good, at this time he drooped and seemed depressed at the corner of the room. Toyotama was worried, but she couldn't find what to say. Then she talked to her father, Wadatsumi.
Wadatsumi was also worried about him. They went to Yama-sachihiko's room and talked to him tentatively.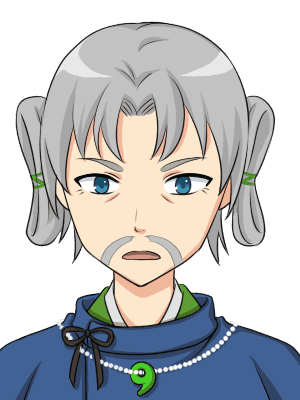 Wadatsumi
Hohri, are you OK? Three years have passed since you married Toyotama, but it's the first time that you look really depressed. What happened to you? Toyotama is worrying as well.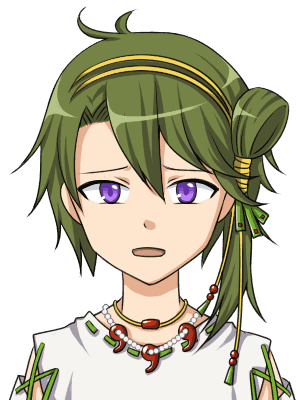 Yama-sachihiko
Ah...Thank you for your concern. Well...I've forgot the important thing.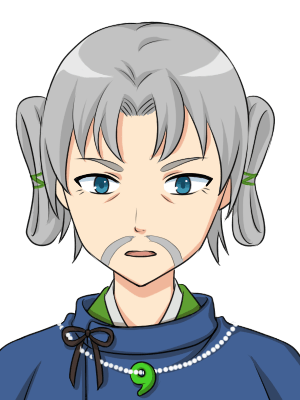 Wadatsumi
The important thing? Speaking of which, I haven't asked you why you came here.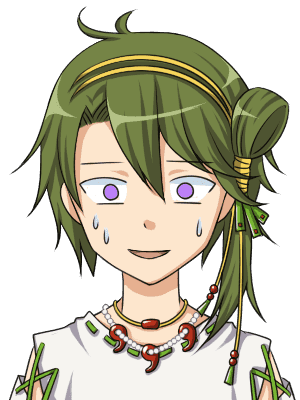 Yama-sachihiko
He told them that he had come to the undersea palace in order to search for his brother's fishing hook in the first place. In the beginning of his story, Wadatsumi and Toyotama were listening seriously, but they couldn't help laughing half way through.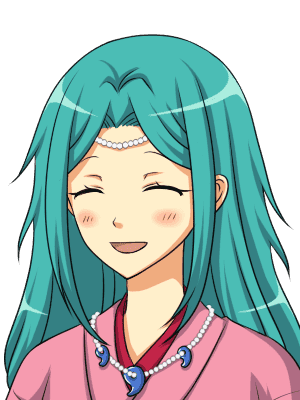 Toyotama
Hahahaha! Hohri! Have you forgot such an important thing for three years? You have a lot of nerves!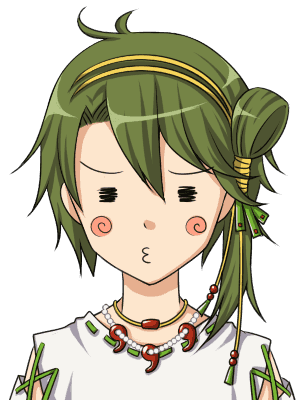 Yama-sachihiko
........I think so too. But it's absolutely because of you.
He looked a little indignant. He was usually tough and sensible, but Toyotama also liked his childish aspect like this time.
Wadatsumi asked many creatures in the sea whether they knew about the hook or not. Then it didn't take long to get some information. They said that there was a sea bream whose throat was clogged with a hook and it couldn't eat foods.
Wadatsumi got rid of the hook from the sea bream's throat and gave it to Yama-sachihiko after washing it.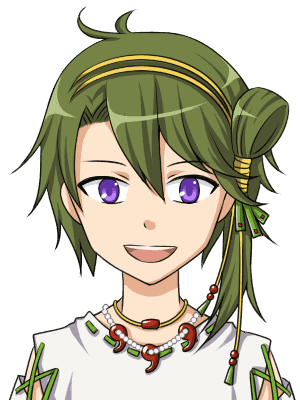 Yama-sachihiko
Yeah! This is it! I haven't expected you could find it so quickly!! Thank you!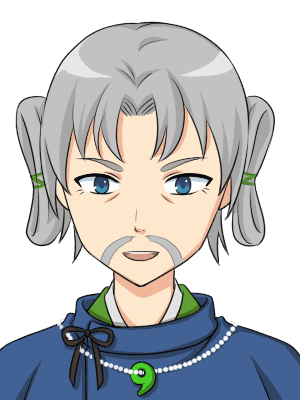 Wadatsumi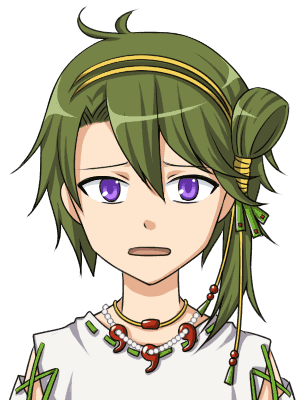 Yama-sachihiko
Toyotama, sorry. Now I've got to go and give it back to my brother.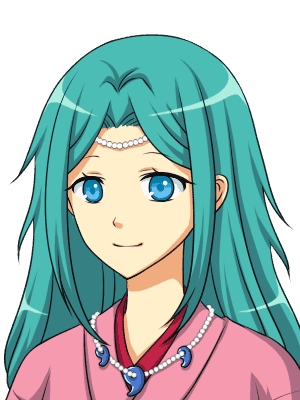 Toyotama
No need to worry. It will become long-distance relationship for the time being, but I'll come there after you.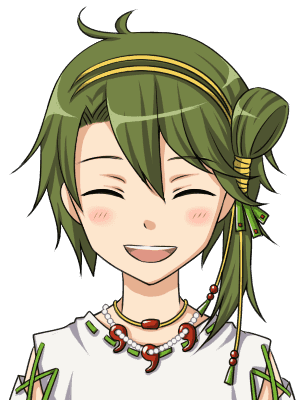 Yama-sachihiko
Really?? I'm very glad to hear that. Then I'll go first.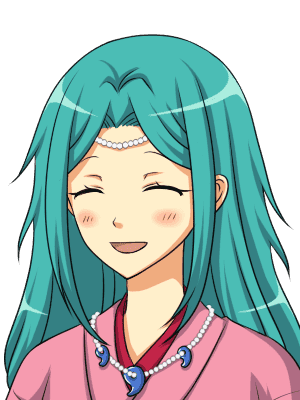 Toyotama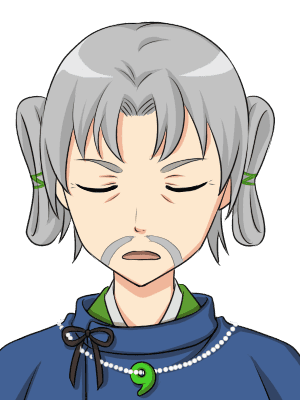 Wadatsumi
Oh...You'll go back to your home, won't you, Mr.Hohri? I'll miss you.
So please say these words when you give back the hook to your brother.
Wadatsumi whispered some words to Yama-sachihiko.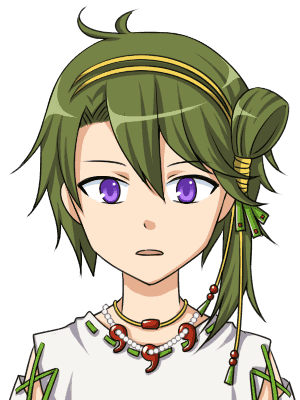 Yama-sachihiko
......What are these dodgy words? They sounds like mystic ones.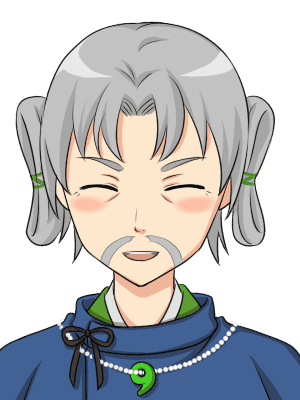 Wadatsumi
You can chant these words and pass the hook to your brother behind you. And when spring comes, please make your rice field far from your brother's field. Your brother will become very poor because of the curse of water. It's my little gift for him who didn't forgive you.
Wadatsumi sniggered.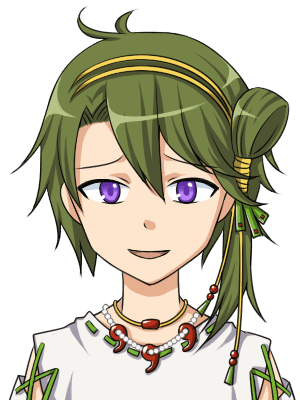 Yama-sachihiko
Haha. I think my brother was a little childish too.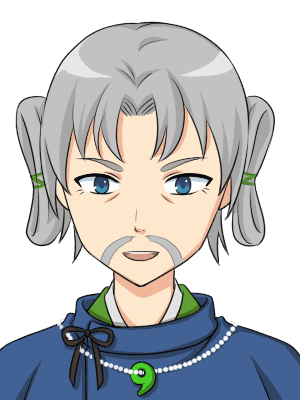 Wadatsumi
If he realises it and attacks you, please use this.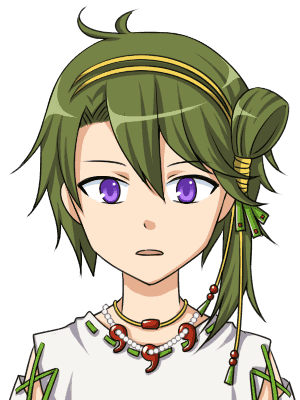 Yama-sachihiko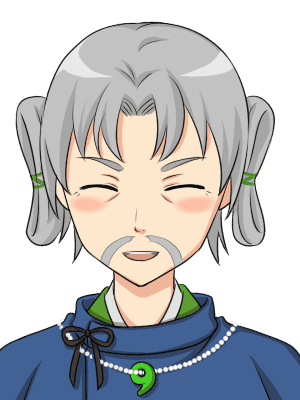 Wadatsumi
It is a high tide bead. It makes water around the person and he will suffocate. And this is a low tide bead. When he apologises to you, you can use it and the water will disappear.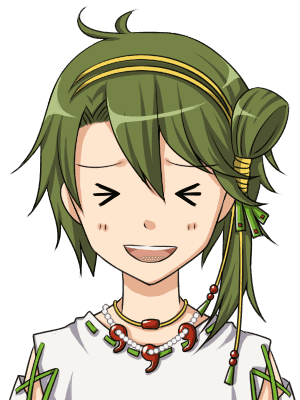 Yama-sachihiko
Wow!! Thank you for everything!!
Wadatsumi gave the two beads to Yama-sachihiko and called in his fishes.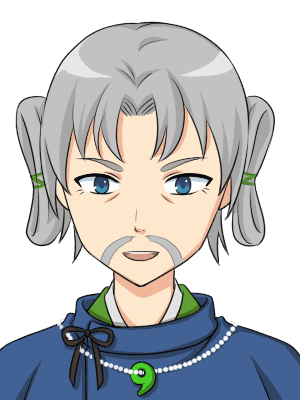 Wadatsumi
Who can send Mr.Hohri fastest to the land?
A shark raised his fin.
"I can get there within a day!"
Yama-sachihiko rode on the shark's back and left for the land. He gave his small sword to the shark as a token of his appreciation. He tied the sword with a string and hanged it from the shark's neck.
The shark was delighted and went back to the sea joyfully.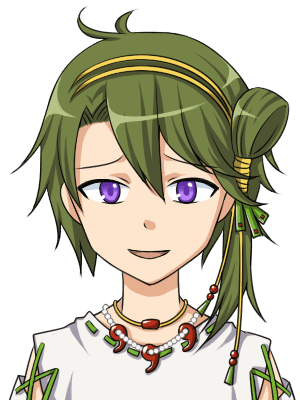 Yama-sachihiko
Though I thought sharks are scary, but they are quite lovely.

When Yama-sachihiko walked on the beach to his home, he soon found his brother. In spite of the bad argument with him, he was glad to see him after a long time.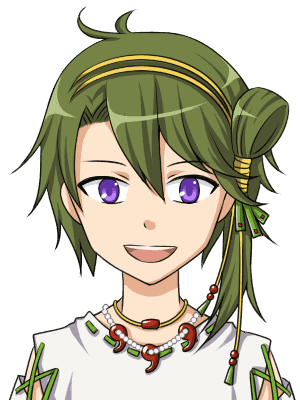 Yama-sachihiko
Hey, brother!! Long time no see!! I eventually found your hook!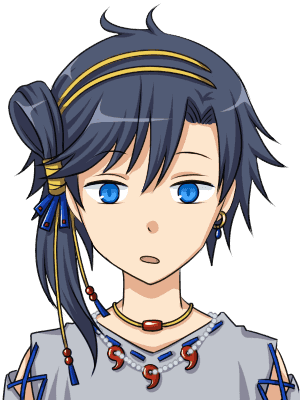 Umi-sachihiko
Yama-sachihiko!! Where have you been for three years? I thought you've run away in fear of me.
Umi-sachihiko was a little mean as usual.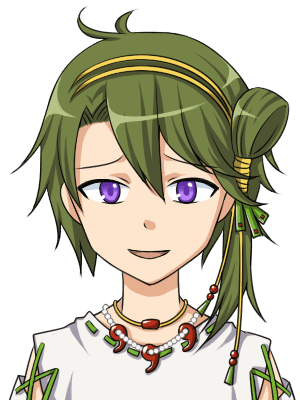 Yama-sachihiko
It's a long story....Here you are.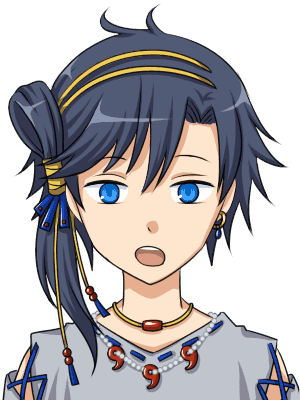 Umi-sachihiko
Oh. Is it my hook? Did you bother to get it? Thank...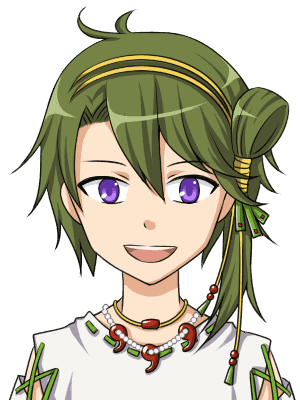 Yama-sachihiko
Yama-sachihiko turned around and said,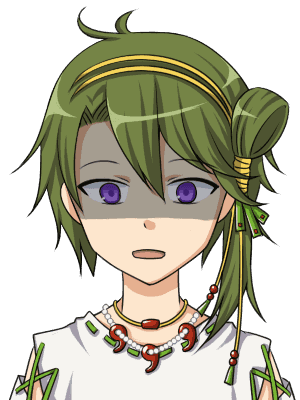 Yama-sachihiko
This hook is depressing, impetuous, poor, and ridiculous.
Then he passed the hook behind him without looking at his brother.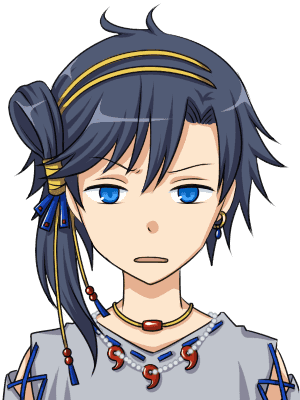 Umi-sachihiko
.......It is definitely my hook, but what are the strange words?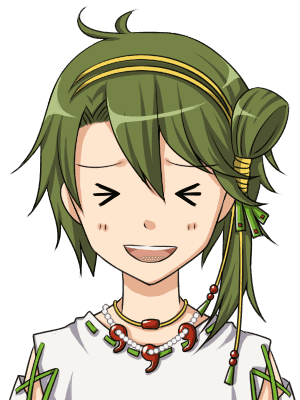 Yama-sachihiko
Yama-sachihiko grinned.

After that Umi-sachihiko was suffering from many troubles.
In that year he made his field at low-lying land, but it was dried up, while Yamasachihio made his field at high-lying land and got abundant crops.
In the next year, Umi-sachihiko made his field at high-lying land. He forced Yama-sachihiko to make his field at low-lying land instead. Funnily enough, the fields at high-lying land became dry at this time. Umi-sachihiko couldn't get any crops. On the other hand, Yama-sachihiko reaped a rich harvest, as you can imagine.
The trick was simple. It was because of Wadatsumi. He was the god of sea and had a power to control water. He manipulated the water and send it only to Yama-sachihiko's land. It was quite unfair.
Umi-sachihiko became incredibly poor in three years.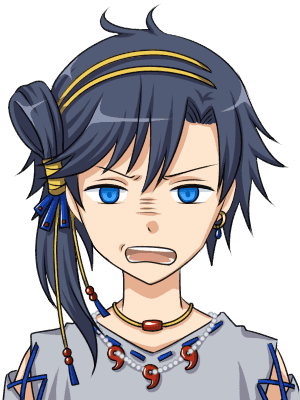 Umi-sachihiko
Damn it! What's wrong with me? Yama-sachihiko, that words were the curse, weren't they? Don't be silly!
Umi-sachihiko couldn't stand anymore and tried to hit Yama-sachihiko with his sword.
Yama-sachihiko was surprised but he raised the high tide bead given by Wadatsumi on the spur of the moment. Water emerged from the bead like a magic and gathered around Umi-sachihiko's face in a spherical shape. It looked like an astronaut's suit even though they were on the ground.
Umi-sachihiko couldn't breathe and was struggling in the water. However it didn't work. Since he moved intensively, he went pale soon. He was nearly choked.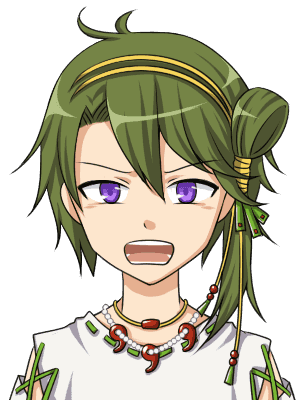 Yama-sachihiko
Hey, brother! Give up and work for me!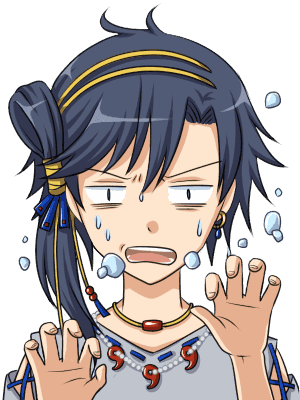 Umi-sachihiko
Umi-sachihiko seemed to say something desperately in the water.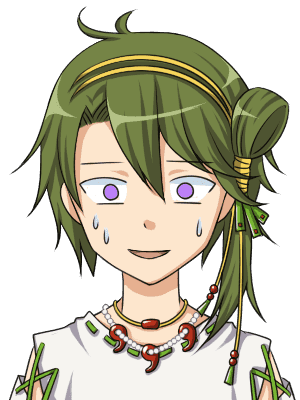 Yama-sachihiko
Oh....? Sorry, I can't hear what you are saying....Will you work for me?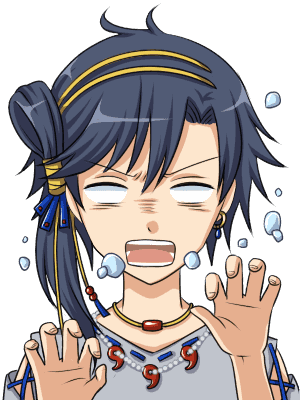 Umi-sachihiko
Umi-sachihiko nodded fast. He rolled his eyes up into his head.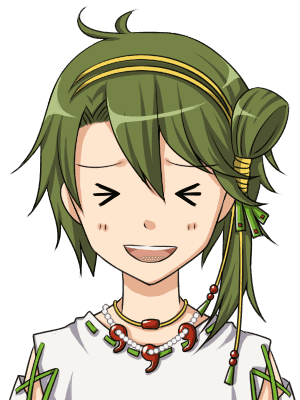 Yama-sachihiko
OK. I got most of it. You agree with me, don't you?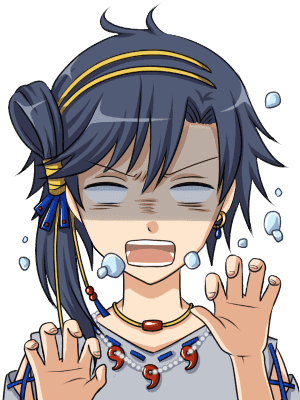 Umi-sachihiko
Umi-sachihiko almost passed out.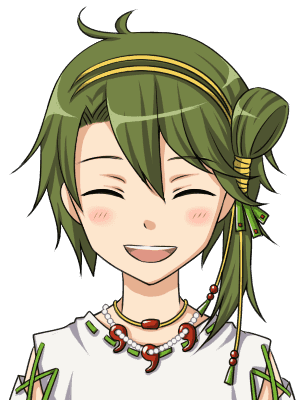 Yama-sachihiko
Then, from now on, you are my subordinate. Thank you.
Yama-sachihiko bowed to his brother, and raised the low tide bead. The bead soon absorbed all the water like a magic.
Umi-sachihiko literally fell on his knees and panted terribly.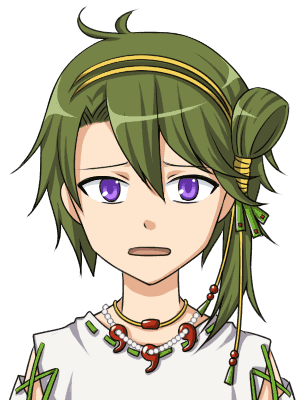 Yama-sachihiko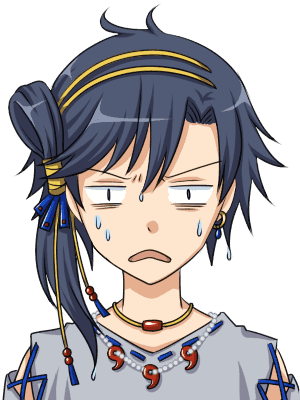 Umi-sachihiko
....Ugh!!...Cough cough....From now on......I'll work for you as Hayahito......Cough cough...Not only me...but also my kids and my offspring too....Shit!!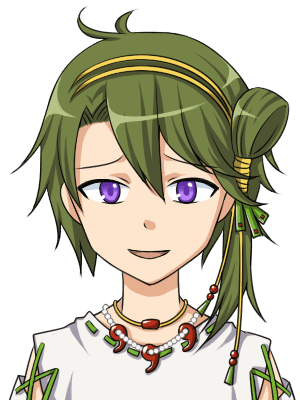 Yama-sachihiko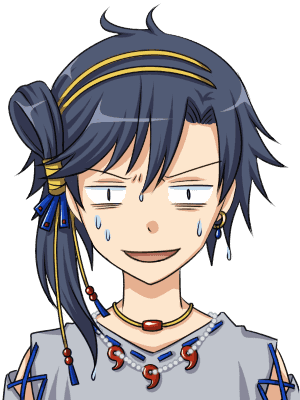 Umi-sachihiko
......Forget it. I'll work for you as I said.
Hayahito was the tribe in Kyusyu area. Some of Umi-sachihiko's offspring still live there and tell us the scene about Umi-sachihiko was beaten by Yama-sachihiko through dances.
Some gods in the Celestial Plain now think that Umi-sachihiko wasn't that bad, because he had kept his promise and showed his own defeat for more than one millennium.
Thus Yama-sachihiko became the king and started ruling the country in Hyuga.
You can purchase "THE JAPANESE MYTHOLOGY KOJIKI" from U-NEXT.
---
Book recommended
Japan's oldest surviving narrative, the eighth-century Kojiki, chronicles the mythical origins of its islands and their ruling dynasty through a diverse array of genealogies, tales, and songs that have helped to shape the modern nation's views of its ancient past.
An earlier translation by Basil Hall Chamberlain published in 1882 is now out of print. This translation relates the translated text to modern scholarship and includes the most recent commentaries. Originally published in 1969.
The first English translation and examination of secret Japanese writings dating from the paleolithic to classical eras.Examines four suppressed and secret texts to discover the deeper truths beneath Japanese mythology.